3 Packs of Heart-shaped Lemon Biscuits, 350gr each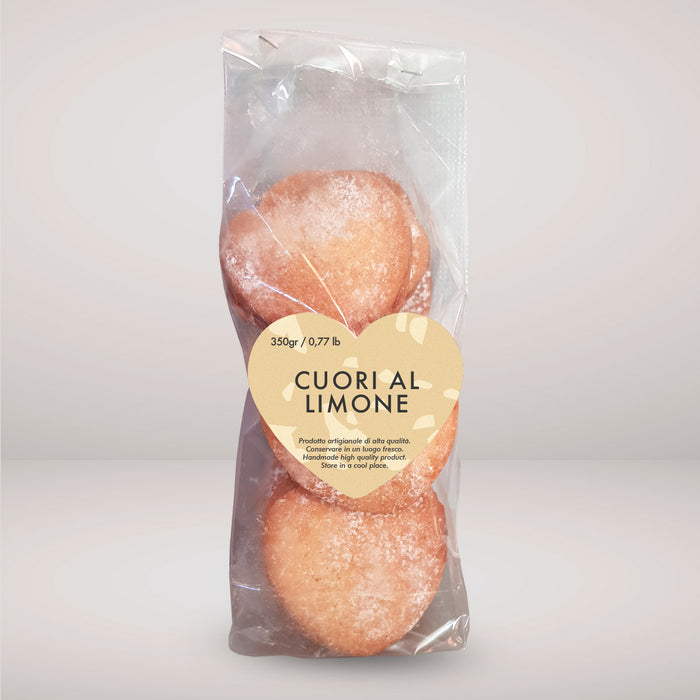 Handmade high-quality product
Traditional Ligurian recipe
Delicious shortcrust pastry biscuits with lemon cream filling. Carola's passion for desserts was born when she was a child and had fun observing and replicating her grandmother's gestures in the kitchen. After years of study and experience, she has finally crowned her most incredible dream of opening her artisan laboratory. She now invents and churns out a great variety of desserts giving great importance to fresh and genuine products.

NUTRITIONAL VALUES (100gr)
488 kcal energy / 27.7g fat of which 18.3g saturated / 53g carbohydrates of which 20.3g sugars / 1.3g fibers / 5.6g protein / 0.2g salt
INGREDIENTS
"00" type flour, butter, icing sugar, eggs, hazelnut cream (hazelnuts, milk, soy), lemon compote, honey, yeast, vanilla, lemon zest, tonka bean

FRESH
PACKAGING
All orders are prepared and packaged upon shipment, based on the items quantity.
QUALITY
INGREDIENTS
Only certified high-quality ingredients sourced in the Ligurian region of Italy.
WORLDWIDE
SHIPPING
We offer global delivery of our delicious goods to different countries.